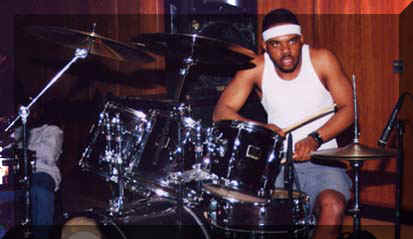 Name: "E" but you can call me "E-Z Now" if your nasty! [LADIES ONLY]
School: University of Gifted & Talented
Location: District Coast [North Eastern]
What does Go-Go mean to me:
Go-Go is a unique culture just beneath the main stream of music. It's a collaboration of different genres of music. To make this DC home based sound, this genre of music is a feeling, an expression, and a lifestyle that the people of this genre of music (Go-Go) have been living basically since birth. So when you hear go-go you are listening to the livelihood of the musicians that's playing it.
Quote: "If if doesn't make DOLLAR$, It doesn't make CENT$"
Hobbies: Playing drums, Reading, watching music DVD's, and anything that pertains to me getting better at my craft!!